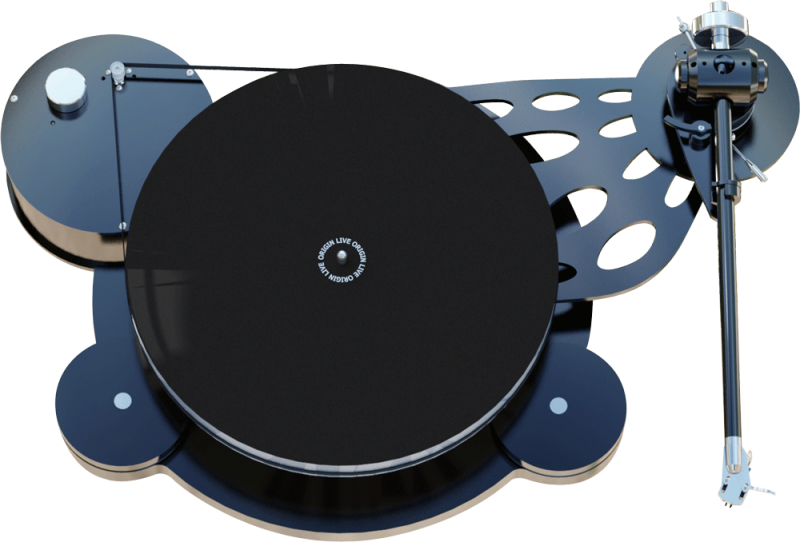 "The Calypso Multilayer/Silver proves a really impressive performer. It has a big, spacious sound that's strong on dynamics, involvement and tonal purity, with excellent detail retrieval."
Hi-Fi Choice
Cat No: OL-C-MK4
"The Calypso Multilayer/Silver proves a really impressive performer. It has a big, spacious sound that's strong on dynamics, involvement and tonal purity, with excellent detail retrieval."
Hi-Fi Choice
€ 2.379,0
In stock (ready to ship)
Item Description
For out-and-out performance, this deck has all the attributes you could ask for. Strengths lie in superb transparency, timing, musicality, dynamics, and tangible soundstaging. Capable of outperforming much more expensive, respected decks, Calypso MK4 is not going to dissapoint you. Also, being neutral and system-friendly, it suits most applications very well.
The Calypso performance improves over Aurora in all aspects of music. In particular bass weight, definition and depth are increased. Resolution across the whole audio spectrum is significantly improved. Dynamics and the projection of voices take on a new realism. These improvements are made possible through the added specific features listed lower down.
Calypso Specific Features
Arm Mount
The deck mounts all Origin Live 240mm (9.5″) tonearms. A mounting option to fit 12″ arms is also available, but this is an either/or choice, rather than an addition. Customers can change over to the 12″ option at a later date, but there's a considerable saving if you order it with the deck.
Superb Styling
The elegant simplicity Calypso MK4 sculpted curves, along with its deep polished finish and top quality machine parts make it a highly attractive design.
Performance Features differentiating this deck from the Aurora
Heavy inertia disc for mounting the sub-chassis reduces vertical modes of vibration
Inertia discs positioned at extremities of Plinth resist rotational forces arising from ground and airborne vibration
Higher grade Swiss Motor with double the Torque of Aurora Motor.
Higher tolerance Bearing
High Quality Materials
In the same way great singers have better voices, all materials resonate differently and have a "voice" in micro-vibration. This factor is often dismissed by theoreticians who prefer to work conceptually and short cut the laborious process of evaluating the sonic signature of different materials.
Monitored Speed Accuracy
Speed control is electronically switched between 33rpm and 45 rpm. A smooth powerfull motor drives the platter at constant speed with no measurable deviation from absolute speed. The remarkable speed accuracy is achieved using the Light Speed Control (LSC). This is not only accurate but avoids introducing the serious motor jitter prevalent in most turntables.
Specifications included on all turntables
Speed 33rpm & 45rpm
Wow and Flutter 0.05%
Absolute Speed Stability 0.0001%
Mains Voltage can be 220 – 240V or 110V (Deck is configured for your country of residence).
Armboard will accept 9.5″ and 12″ Origin Live Arms (to order). Rega arms also accepted.
The Voyager deck will accept any brand of tonearm (to order).
Options and Extras
Multi-Layer Platter
The Multilayer platter is an option available for the Aurora, Calypso and Resolution decks. It is included as standard on Sovereign turntables. This option makes a colossal difference to the performance (more so than the difference between 2 turntable models).
Noteable are increased dynamics, ultra fast transients, deeper bass and improved definition throughout the range. However all aspects of the music benefit from the multi-layer platter. Hi Fi Critic Magazine made the following comments on the multi-layer:
"The sonic outcome of fitting the new platter to the Calypso was not marginal in a "well, it might as well stay now it's on there" kind-of-way. It was shockingly effective, resulting in a 50% plus uplift in performance over stock…… It is a masterpiece of voicing that must have taken heaven only knows how long to get right. It works evenly, top to bottom, removing the fog from recordings. Timing, dynamics and tonal veracity are all improved.